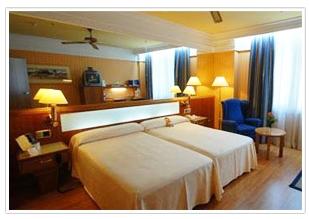 Senator Gran Via 70 Spa Hotel Madrid
The Senator Gran Via 70 Spa Hotel is situated in the centre of Madrid just 10 minutes from the famous Puerta del Sol, the theatre area and the Royal Palace. The hotel offers a restaurant "La Restinga" that give you the possibility to savour some of the best Mediterranean and international dishes and the "Café Pompeya" located in the hall of the hotel.

Starting from October 1st 2012 the jacuzzis on the roof will close until next season.